When I started thinking about the one word I wanted to be my intention for 2020, the word 'RELEASE' entered my mind.  I feel this is a continuation of my desire to grow emotionally and aligned with the wellness vision I created in 2019.
My Wellness Vision is who I want to become and the behaviors I want to do to nurture my well-being. Here's the statement I came up with: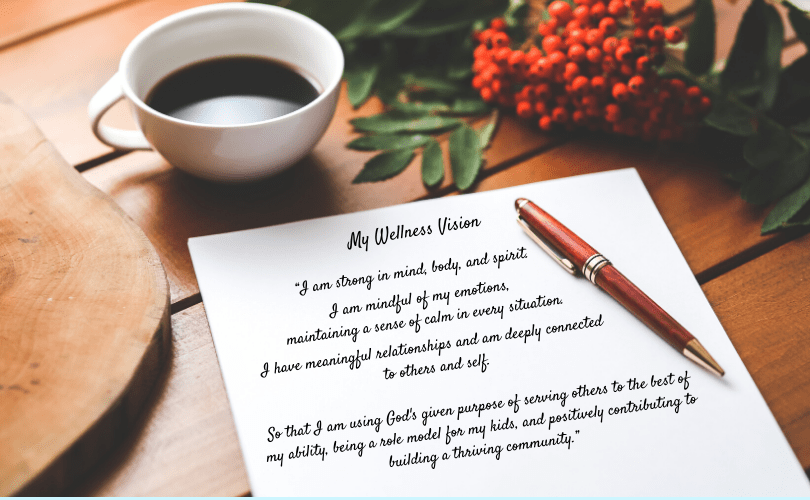 Release Perfectionist Expectations
Who is your biggest critic?  Is it you?  I've caught myself red-handed with being cruel to myself when I think I haven't done enough.  Often I ask, am I doing enough?  Am I doing enough to meet the needs of my family?  Am I developing enough skills to serve my clients in the best way possible? Can I do more to grow my business?
As you read these questions, you probably found it exhausting as I tend to set a lot of expectations for myself.  Therefore, this year I intend to let go of perfection.  To focus on progress and celebrate every success big and small.
In 2019, I accomplished two big successes – a Master's degree in Exercise Science and Health Promotions and a Wellcoaches Health and Wellness Coach certification.  Sad to admit that while I was excited to achieve these distinctions, I didn't set aside the time to truly celebrate.  All I did was ask 'What's Next?'
Release and Affirm:
"I focus on progress, let go of perfection, and celebrate every achievement."
Release My Fears
Rejection.  One of my biggest fears since childhood. Not sure exactly of its origin. I would conjure thoughts of being turned down whenever I considered asking for anything.  Which translated to feelings of inadequacy.  In hindsight they were unreasonable thoughts.  But I saw them as real.
This past couple of years, I've been spending time on foundational work on self and I'm ready to start releasing this fear of rejection.  In a way, this fear has pushed me to work harder but not smarter. To be resourceful and independent, as I was terrified to ask for help.
While working hard brought me to where I am today, I want to work smarter.  To elevate my strengths. To not be afraid to ask.  That by making requests, I open the door to opportunities I would never have otherwise.
And if I do get rejected, I learn to accept and let go.  Not to take it personally and stop me from moving forward.
Release and Affirm:
"I endure because I believe in my path."
Release and Help others Bloom
As I work on this intention, I also want to help others release their blocks so they bloom into becoming the amazing being they truly are.
Within us is the need for self-actualization – to fulfill our best potential.
In terms of wellness, we all yearn to thrive in all aspects of our well-being.  Unfortunately the path to thriving meanders and twists with potential barriers along the way.  Some of you may be able to handle it on your own.  Others may need someone to walk alongside you.  I am grateful to be on the path with you as we work on strategies to remove the obstacles that have kept you from reaching your potential.
Help others Release and Affirm:
"I choose to see the light I am to this world."
Ultimately, I am committing to the intention of RELEASE so I can live according to my values.  One of which is service.  To serve others in the best way possible, I believe we have to be well in mind, body, and spirit.  The act of release is a step forward in that direction.
What are you ready to RELEASE in 2020?  
Do you have a Wellness Vision?  If you're interested in creating one, grab my free guide => CLICK HERE
Note:  The affirmations were adapted from the Law of Attraction Planner by Freedom Mastery (affiliate link – see Disclosure for more details).