Healthy Eating
♥

Daily Exercise
Stress Management
♥

 Better Sleep 

♥

 Meaningful Connections

Do you find it challenging to implement healthy lifestyle behaviors?

I'm grateful you're here, because you're in the right place!  I believe within you is the strength and drive to transform your health.  Together, we'll bring out your strengths and build your resilience to overcome inevitable challenges that come with making changes.

In our coaching sessions, you'll gain clarity, awareness, and self-compassion, that will help you take small steps toward self-care and health-promoting behaviors.  The transformative result is having the confidence in your ability to start and sustain healthy lifestyle habits.  I invite you to start your health journey today with a free 30-min healthy lifestyle discovery call session.


Click to Schedule your FREE Session to Start Your Health Journey

COACHING SERVICES: 
*Women Veterans  – 10% off services – CODE:  Veterans10*
JUMPSTART TO A HEALTHY LIFESTYLE  (5-sessions)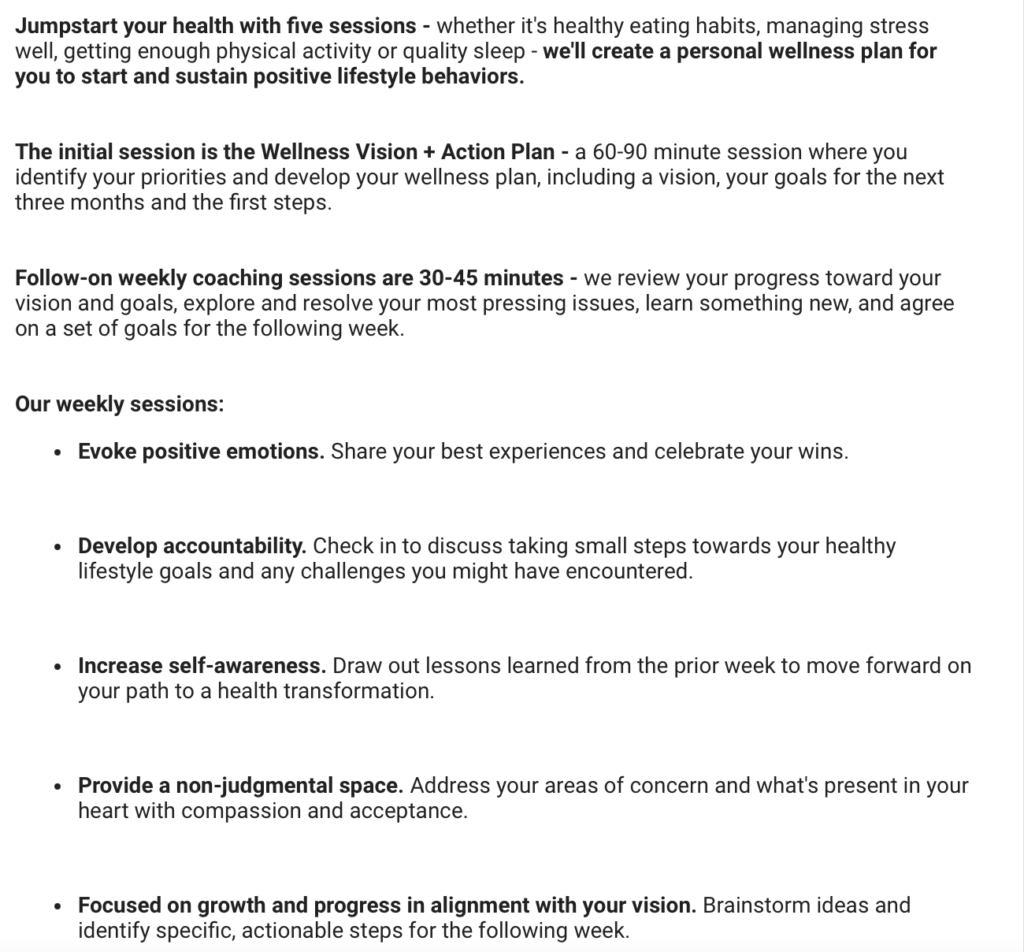 Click to Schedule your FREE Session to Start Your Health Journey

ADOPT HEALTHY LIFESTYLE HABITS  (13-sessions)

Click to Schedule your FREE Session to Start Your Health Journey
---
GROUP PROGRAMS
Your Path to Healthy Habits
This 8-week small group program is FOR YOU, if:
You want to break POOR EATING HABITS to improve your health.
You desire to be MORE ACTIVE and BUILD STRENGTH so you can age gracefully
You're ready to COMMIT to CHANGE and create a lifestyle ALIGNED with your VALUES.
You'd love to CONNECT and SHARE your experience with others on the same journey.
You're seeking GUIDANCE and SUPPORT from a health coach.
If you'd like your amenity center/community center to offer this program, please send an email to elaine@evokestrong.com.
The LESS SUGAR, MORE HEALTH experience
This 4-week online course is designed to teach you behavior change tools and strategies to shift your mindset to eat less sugar and implement healthy habits.
Next enrollment starts in Fall 2023. 
✔︎ Are you 45 years old or older?
✔︎ Are you overweight?  (BMI greater than 25; if Asian, BMI greater than 23)
✔︎ Are you physically active less than 3x a week?
✔︎ Do you have a family history of type 2 diabetes?
If you answer yes to two or more questions, you might be at risk for prediabetes.  Take the prediabetes risk test and talk to your healthcare provider about your results.  Your provider may recommend a blood test for prediabetes.  Only a blood test can confirm if you have prediabetes.