Let's take a moment to bring out your thoughts and feelings about your health and wellness.  Is it positive? Hopeful?  Thriving?  Or perhaps the opposite.  Downhearted? Stuck in the muck? Impossible to change?  When you observe these two contrasting states, you get the sense how strongly your mental and emotional fitness drive your way forward to a thriving well-being.
This post is the second in the series of
"A Thriving Well-Being"
.  Each post will address the seven components of well-being as outlined in a holistic and comprehensive assessment developed by Wellcoaches*.
Every year on October 10th, World Mental Health Day is celebrated.  It recognizes the importance of mental health and sheds the stigma of talking about real mental suffering out loud.  There is no shame in asking for help when you are in despair.  That healing begins when you reach out to others instead of suffering in silence.
Once you heal, the journey continues as you establish a daily routine of practices to foster mental and emotional fitness.  Having a sound mind and positive emotions opens the door to doing the work to take care of yourself.
Let me share with you the top three things I practice to work towards reaching optimal mental and emotional fitness.
#1 Mindfulness
I recently started working with a health coach (yes coaches need their own coach as well :)).  One of my goals is focused on becoming more mindful of emotional triggers.  Paying close attention with how I react to situations that trigger negative emotions.  So far, I've learned when I feel cranky and overwhelmed, it stems from my need for order and harmony.  But when you have kids, it seems far-fetched to expect a clean and orderly home, so what's a mom to do?  The next best step was knowing how to cope with it.
Part of being mindful is to be aware of the bodily signals I experience when my needs aren't met.  For me,  I feel my heart racing and shallow breathing.  And when this happens, I have managed at most times to pause and tune in to my breath (my morning ritual of 10 minutes of meditation taught me how to be one with my breath)  This is a benefit to both my kids and myself as I aim to respond in a calm and reserved way.
#2 Journaling
I started writing in a journal when I was 11 years old.  One collection I treasure most are my journals with about 20 filled in from the past 30 years of my life.  Another part of my morning ritual is
The Five Minute Journa
l which sets me in a positive mood as I write down 3 things I am grateful for, 3 actions that would make the day great, and an affirmation.  I also have a prayer journal to write down praises and gratitude as well as prayers for my family, friends and those I've connected with. A few times a month I would spend time reading past entries to reflect on past learning experiences and growth throughout the years. This practice has helped me appreciate every part of my life – the good, the bad, and the ugly!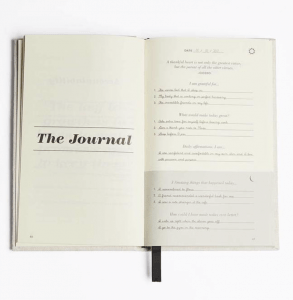 #3 Connections
Even though I consider myself as introverted and it takes effort for me to meet new people, I am fulfilled when I make a strong connection with someone. To have meaningful conversations, to laugh out loud, and even shed tears. Knowing we can support one another when things don't go the way we expected. I place a huge value on my relationship with my family and friends and grateful to all the people I've crossed paths with. Every one of them have shaped my life to where it is today.
Of course, we can continue to do more for our mental and emotional health.  The same things we do for our physical health applies.  Like proper nutrition, daily physical activity, getting enough quality sleep, and knowing how to manage stress.
How about you – what are the top 3 things you do to nurture your mental and emotional fitness?
*Interested in increasing your awareness about your well-being?  Take a Well-Being Assessment!  Access this link => CLICK HERE  and enter my email address – elaine@evokestrong.com in the Coach's email address.  Don't worry this doesn't commit you to a coaching session with me, however if you have any questions after you take the assessment, feel free to email me 🙂