February brings up matters of the heart – Valentine's Day, Random Acts of Kindness, Heart Health month.  As a veteran, I was thinking about what's in the heart of many veterans?  One thing that popped into my mind immediately was service.  In the past year, I've developed a deep appreciation for veterans who continue to be a source of inspiration and support in service to others.
About a decade ago, I decided to transition out of the Navy so I can solely focus on motherhood.  When I separated, the last thing on my mind was identifying as a veteran.  Instead, I relished the title of 'stay-at-home mom' and 'military spouse'.  My husband also served in the Navy with continued service until retirement.
It wasn't until the pandemic – when life slowed down a little due to quarantine and my afternoons were free from taking the kids to their activities – that I had the time to reflect on the aspects of my life that shaped the person who I am today.  One significant part was my military experience, which all started when I joined my highschool's NJROTC.  Who knew that marching in formation, wearing a uniform, and practicing discipline would leave such an impression? An indelible mark that led me to pursue an NROTC scholarship in college followed by eleven years of service in the Navy.
Veterans are a Rare Gem
Only 7% (18 million) of the U.S. adult population (331 million) served in the military (according to the census).  Women veterans are even rarer – of the 18 million veterans, 1.7 million or 9% of veterans are women.  In the hearts of many of these veterans, serving others in their communities remain. I'm grateful and honored to be a part of the veterans community as I strive to continue to serve alongside them.  I observed it firsthand when I joined Team RWB San Diego last February.  I wondered why I didn't join this fantastic organization years ago?  They've been active for many years!
Team RWB is a non-profit organization with the mission to enrich the lives of America's veterans by connecting them to their community through physical and social activity. It's run by dedicated volunteers committed to follow through with enhancing the physical/mental/emotional health of veterans while developing meaningful connections and reigniting their sense of purpose. With isolation on the rise observed during the pandemic, Team RWB provided a community of support to get veterans, active military, and families physically as well as socially active.  If you'd like to get connected with other veterans in your community, this is the place for you!
Veterans' Heart Health
Since I'm addressing matters of the heart, I'd like to bring up Heart Health with veterans also having a fragile heart.  A 2019 research study reported in Science Daily the higher likelihood of younger veterans to have heart disease when compared to nonveterans.  The study cited that heart disease could be more prevalent to the younger generation (ages 35+) due to the following:  "nature of conflict in Iraq and Afghanistan, modern warfare, changing diets, changing approaches to leisure and exercise, higher rates of obesity in younger veterans than nonveterans at the same age, and higher rates of drinking, smoking and mental illness."
Another study published in circulation focused on heart health of women veterans.  Heart disease happens to be the #1 cause of death for women in the U.S.  And women veterans also show a higher rate for cardiovascular disease when compared to civilians.  The infographic below provided by the authors of the study shows further details and you can find out more about the study in this article: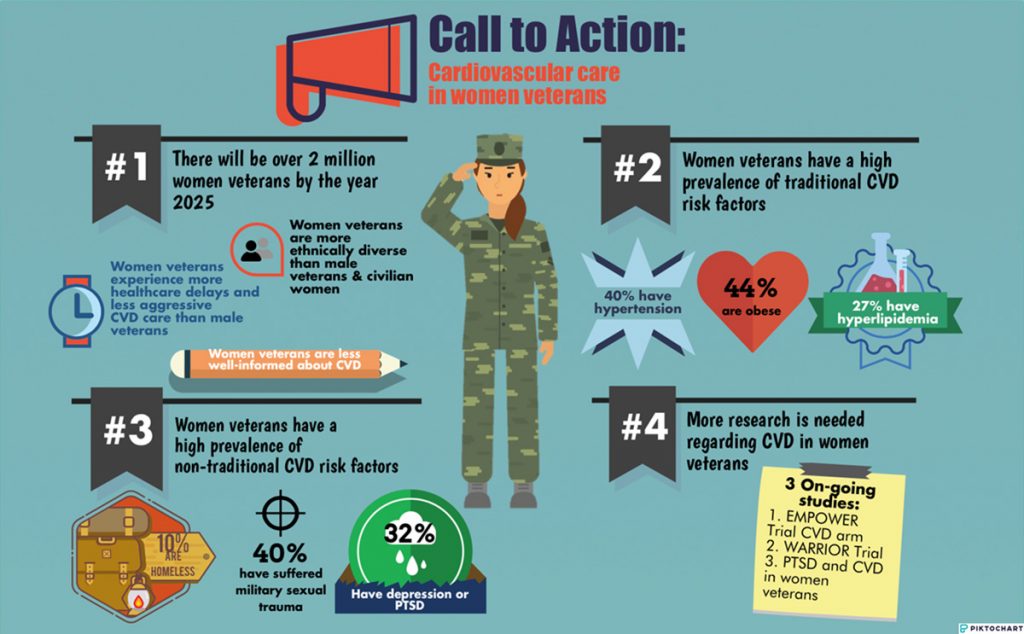 Taking care of ourselves to reduce risk factors
Do you know that lifestyle behavior change has a significant and powerful impact on improving your health status?  What's good for your heart is also good for your overall body and mind.
It focuses on these six positive lifestyle behaviors –
Healthful Eating, Movement, Managing Stress, Sleep,
Meaningful Connections, and Avoidance of Risky Substances.
The American College of Lifestyle Medicine provided an excellent resource as to how you can get started with restoring your health today.
Start Small to Avoid the Overwhelm
You might look at the infographic above and start to feel overwhelmed at the many behaviors to adopt to your lifestyle.  No worries – it's ok to pick just one behavior as the starting point.  One that you are drawn to and would like to have as part of your routine.  Would you like to eat more vegetables?  Or eat less processed sugary foods?  Maybe you'd like to get more sleep?
Once you have a behavior selected, make it so small that there's no question you'd do it.  For example, let's go with eating more vegetables.
First, make it specific:  Fill half to ¾ of your plate with fiber-filled, nutrient-dense whole plant foods.  That may be a tall order for you especially when your refrigerator is devoid of plant foods.  So the next thing to do would be to break it down to small steps.  Perhaps the next time you go to the grocery store, you pick up a couple of vegetables.  Continue to take small steps until the vegetables you bought at the store make it to your plate and into your body 🙂  If this is something you need help with, I'm here to serve!
Thank you for your heart of service.
My heart of appreciation extends to the veterans who continue to make an impact and a difference in the lives of others.  Whether you're a parent who is a role model for your children or a leader in your community who inspires and supports those in need – THANK YOU for shining your light and uplifting those around you.