One of my daughter's favorite activity at her school is the 'Creative Writer's Workshop'.  Every week they go through a process where the students pick a topic they're familiar with and write a book about it.  I had the pleasure of reading her books at the school's Open House.  This particular one, How to be Healthy, caught my eye and made one mama proud.  Children are  incredibly observant and easily absorb information.  I am touched that my passion resonated with her and wanted to write about it. 
Enjoy her candid writing!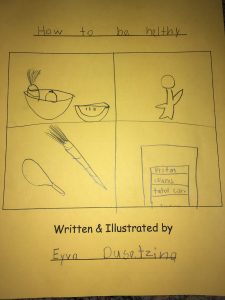 HEALTHY FOOD

Not a tomato fan, but she is at least willing to try it when I put tomatoes on her plate!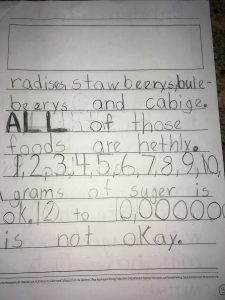 1 to 11 grams of sugar is OK.
12g to 10million grams is NOT OK!
Coincidentally, the recommended daily limit of added sugars for 4 to 8 yr old children is about 12g.  I asked her if she knew this to be a fact and she was impressed she guessed correctly.  For women, the American Heart Association sets the limit to 25g.
Unfortunately, the US population is consuming WAY TOO MUCH SUGAR!!!  I was part of this population until I started to have health issues as you may have already in a previous post about being 'Skinny Fat'.
UNHEALTHY FOOD
I'm not sure if her friends like it, but at lunchtime, she would take her friends' juice and check the label to find out how much sugar is in it.  And I love how she's realistic to mention that she can have these types of food SOMETIMES.
EXERCISE
HEALTHY AND UNHEALTHY INGREDIENTS
Ha!  I let her know 'Calorie' is not an ingredient but she had an idea it is somewhat related to energy.
TAKE-AWAY MESSAGE
I hope next time you'll stop to remember that you can be healthy!"
What are your thoughts on sugar intake?  Do you know how much sugar you consume each day?