Wow we're already halfway through 2022!  The heat and humidity is in full force here in northeast Florida, but I'm enjoying the summer blooms in the yard and around the neighborhood.   For the month of June, here are the five things I found insightful and inspiring that may be helpful as you pave your path toward flourishing.
The Feature Five June Compilation –
When you need more calm and focus to work through the challenges of the day, what is the one powerful tool you can immediately access?  It's the power of breath!  You have a natural ability to take control of your breathing to cultivate peace and stillness in your mind.
Check out this infographic created by Wellcoaches and The American College of Sports Medicine explaining the  benefits of a deep, long, and slow breath and a technique you can try today.  You can download your copy HERE.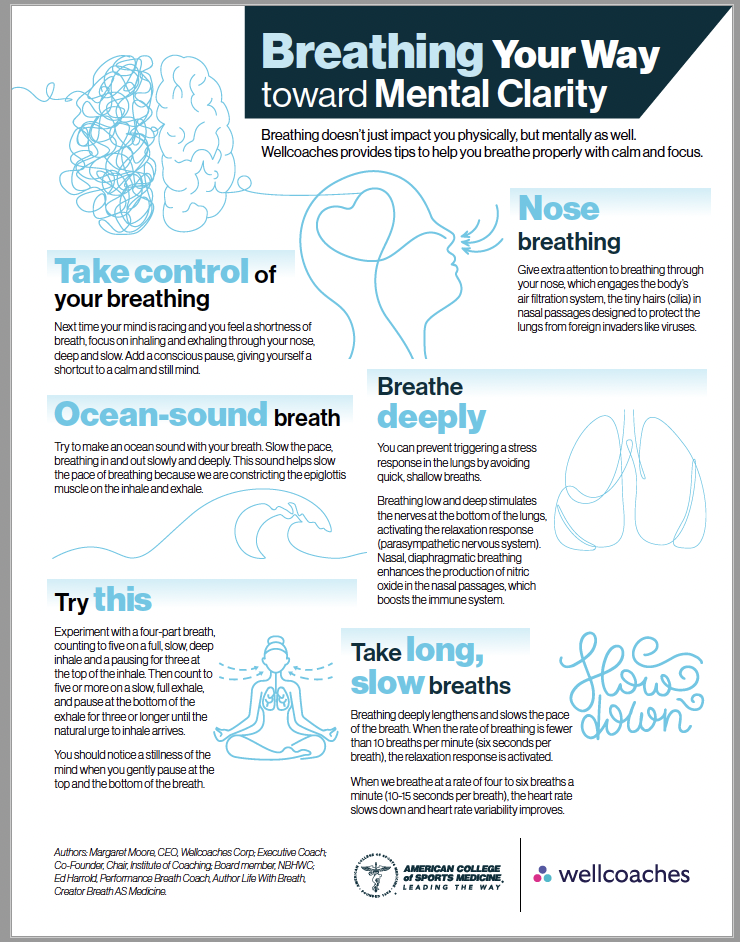 I mentioned last time that I did The Blood Sugar Reset Challenge by BeingBrigid.  Brigid is an expert functional medicine dietitian and is a wealth of knowledge when it comes to blood sugar stability.  Perhaps you're already familiar with this one hack, based on research, but it's worth repeating –
Add 1-2 Tablespoons of apple cider vinegar with 6-8 fl oz of water before or in the middle of your meal to improve your blood sugar response". 
So when I eat something that I know would cause my blood sugar to rise higher than usual – namely pizza, I usually eat a salad dressed with olive oil and plenty of apple cider vinegar.  Research has also shown that lemon juice works.  Apparently when you lower the ph of a meal, making it more acidic either by drinking water with vinegar or lemon juice, the glycemic impact of the meal is lowered.  Of course, it goes without saying that when it comes to blood sugar stability, it's making the choice to eat foods that won't spike your blood sugar – namely mostly unprocessed whole foods.
A quick share of what I posted on Instagram a few weeks ago in case you don't have an account or don't follow me yet…(you can connect with me HERE).
Knowing you have prediabetes gives you the opportunity to prevent it from progressing to type 2 diabetes.
In the U.S., more than 1 in 3 adults have prediabetes. And for those who have prediabetes, 8 in 10 don't know they have it. So how do you find out? A one-minute risk test – doIhaveprediabetes.org – can give you an idea. If you score a high, share it with your doctor and ask for a blood test for confirmation.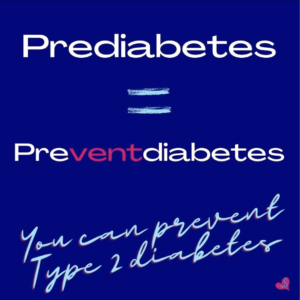 With prediabetes, you have the power to make a change in your health outcome. You can lower your risk of type 2 diabetes with positive lifestyle changes like choosing healthier, less processed foods, getting enough movement throughout the day, and learning how to cope with daily stresses.
If you've struggled in the past to make these changes on your own, you're not alone.  You can be a part of a group who are going through the same challenges as you are and together, you can support one another with making these healthy lifestyle changes happen. You can fill out an interest form on this link:  Evoke Strong PreventT2 Lifestyle Change Program
June was recognized as Alzheimer's and Brain Awareness month.  As part of the American College of Lifestyle Medicine, this resource was provided to emphasize the importance of healthy habits to developing and preserving a healthy brain.   As you can see, the lifestyle habits that are good for the body (nutrition, exercise, sleep, stress relief) are also beneficial for the brain.
I started using the Calm app in 2017 when the rigors of stress took a toll on my body.  Every morning, my routine includes a Bible devotional and journaling, a session in the Calm app and some form of movement – whether it's yoga, running, or a walk with my dog.  When I start my morning with scripture, breath, and movement, I've established a day that is positive and nurturing.  Of course, it's inevitable to experience a bad day occasionally, but without the foundation of this morning routine, it could be worse.
Recently, Calm started a Wisdom series with Jay Shetty.  I love the structure of this session starting with a breath, a short story injecting wisdom to my day, and ending with a short meditation/reflection.  It's something I look forward to listening every morning.  If you're interested, here's a link to a 30-day guest pass.