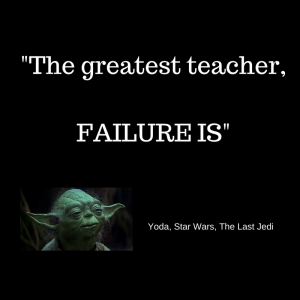 I finally had the chance to see the movie, The Last Jedi and this particular quote about failure resonated with me. Recently, I had an accidental slip with the Whole30 reset and while it was only a minor setback, to me it still was a failure because I needed to start over again.
Friday, I was on day five of the Whole30.  I waited until after we returned from our holiday vacation because I knew it was going to be challenging to find compliant meals on a road trip.  However, the past five days I didn't find it too difficult to prep and cook three meals a day.  I actually enjoyed the process. Shopping for food felt like a fun scavenger hunt where I had to look for ingredients that didn't include sugar or grains or additives and the list goes on… While it took more time I really like the awareness it gave me, knowing exactly what I was putting in my body. And by focusing more on wholesome food like fruits and vegetables, all types of meats, and nuts/seeds, the process to me got simpler.
Take a look at some of my meals from this past week:
Breakfast
Lunch
You probably would think this is the least appetizing food but I actually love it!  It's sardines with cucumbers wrapped in seaweed.  I've eaten sardines since I was a kid so it brought back childhood memories of growing up in the Philippines (unfortunately, the brand of sardines we used to eat there had preservatives :().
Dinner
Back to Friday, on Day 5 when I decided to go to my favorite coffee shop to finish my graduate course assignments for the week.  Usually, I would order a black coffee but I wanted to try a latte with almond milk.  Verifying it's just coffee and milk without second thought the almond milk might contain sugar or other additives. The latte arrived at my table beautifully presented with a little note for an added personal touch.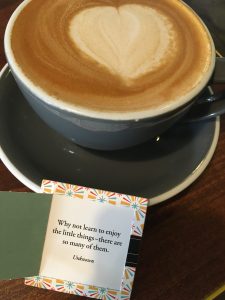 I was ready to enjoy this latte as one of 'the little things',  but when I took a small sip I felt a sweet rush immediately!  This can't be zero sugar?!  It's way TOOO SWEEEET!!  I asked the barista if the almond milk contained sugar to which he responded, only the natural kind.  He proceeded to grab the box of almond milk to show me and there it was in the ingredient list.  I can't even remember exactly how much sugar was in it, but I was a bit disappointed.  I ordered a black coffee instead and the barista was kind enough to give it to me free on his account.
The good news it's only been five days so extending it five days isn't much of a big deal.  Plus I really don't mind eating the way I'm eating now.  A couple of years ago when I found out I was at risk for becoming a pre-diabetic I took action to avoid processed sugar so it's not part of my diet anymore.  This time around I'm determined to reduce inflammation and hopefully get to the bottom of unusual symptoms I've experienced for the past several months.  Even if it takes me more than thirty days, I know it's worthwhile in the end.  Eating well is a gain for me!
Have you tried the Whole30 or any type of reset?  What was your biggest challenge with it?
Interested in being a part of a community for women who want to build sustainable healthy habits?  Consider joining our closed Facebook group, Evoke Healthy Habits.  Evoke Healthy Habits is a community for women to receive support and guidance from one another while going on a journey of change towards a lifestyle of healthy habits.  We have weekly challenges, recipes, workouts, and tips to help you establish healthy habits for the year!  Click on this link and request to join:  www.facebook.com/groups/evokehealthyhabits