When you hear the word "Skinny Fat", what's the first thing that comes to mind? Mine is an image of my late grandfather who had thin arms and legs but with a protruding belly as if he was 9 months pregnant!  Unfortunately, my grandfather passed away at the young age of 70 because of an aneurysm.  I'm certain the protruding belly had something to do with it (and you'll see the reasons why after you finish reading this post).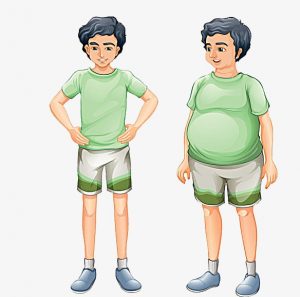 From childhood to adolescence and even to adulthood, I was always skinny. Skin and bones! I never considered skinny as being unhealthy until I learned about the condition "Skinny Fat".
Disclosure:  This post contains Amazon affiliate links.  For more info, visit the Disclaimer and Affiliate Disclosure page.
Skinny Fat
TOFI (Thin Outside, Fat Inside)
Metabolically Obese, Normal Weight
All of these phrases describe a person with normal weight yet show signs of metabolic syndrome. What led me to discover this health condition? It would have been my fate if I ignored the abnormal results of my blood test and took the advice of my doctor who was the least bit concerned about these results.
My doctor's reaction exactly fit the description of the current health care system, defined as sick care instead of health care.  Here's an excerpt from an article posted in the Boston Globe,
The foundation of our current health care system is the treatment of illness and disease rather than the promotion of good health. If we created the conditions to make it possible for people to take better care of themselves, countless medical conditions such as type II diabetes, certain cancers, heart disease, and obesity could be prevented (1).
Because my results weren't at the levels where I could be officially diagnosed as "Type 2 diabetic" or as someone with "High Triglycerides", my doctor didn't see it as an urgency.  Disappointed, I left the clinic with a sense of commitment to search for answers. This led me to find out more how a normal weight ('Skinny') doesn't automatically equate to healthy.
Discover the risk factors of metabolic syndrome and see if you fit the description!
The two test results that got my attention were the Hemoglobin A1C test and Triglycerides from a lipid profile test.  These are two of the six factors listed below to keep an eye on.  As you continue to read, you will notice a common thread among these factors, namely insulin resistance.
1.  High Blood Sugar
Yikes, I couldn't believe it when the Hemoglobin A1C (HbA1C) results showed my levels nearing prediabetic (at 5.6%*)! An HbA1C test indicates a person's average glucose levels in the past two to three months.  If you're in the orange, then it means your body is starting to show signs of insulin resistance.
In simple terms, insulin resistance is when the cells of our body is no longer responding to the insulin. Therefore, glucose is not absorbed adequately and more insulin is required to get the high levels of glucose into the cells and out of the bloodstream.
2.  High Triglycerides
My levels were at 167*, indicated on the table below as Borderline High.  It jumped from 64 to 167!  In addition to glucose absorption, insulin's role is also to allow for cells to absorb fatty acids such as triglycerides.  Again, if a person has insulin resistance, then the cells are less likely to take in the triglycerides from the bloodstream.

3.  Abdominal Fat Gain
This photo was taken in 2015 – the same year I found out about my abnormal blood test results.  As you can see, I was carrying a bit of weight around my waist.  No big deal right?!  I thought this was a consequence of having children. But something else was brewing inside my body that was causing it to hold on to fat. Particularly, insulin resistance.  I believe I was developing insulin resistance from chronic stress, lack of sleep, a break from exercise (mainly strength training), and poor nutrition.  Insulin resistance causes a rise of insulin in the body and as thoroughly explained by Dr. Jason Fung's book The Obesity Code: Unlocking the Secrets of Weight Loss
, apparently excessive insulin causes weight gain (2).
4.  Low muscle mass
Long distance running was my preferred form of exercise.  While I dabbled in resistance training, it was very inconsistent. When short on time, I'd run because it was the most convenient. Although my weight was normal (less than 110lbs), a higher percentage of this weight was due to fat mass.
Guess what?!  Insulin resistance is inversely related to muscle mass. Numerous studies show the lack of muscle mass is strongly associated with insulin resistance and the development of type 2 diabetes.  In particular, a study in The Journal of Clinical Endocrinology & Metabolism revealed a 14.5% prevalence in diabetes with those who had low skeletal muscle mass compared with only a 5.3% prevalence with those who had higher levels of muscle mass (3).
5.  Low HDL cholesterol
HDL cholesterol is what we know as the 'good cholesterol' because it helps to take the bad cholesterol out of your system.  If your HDL is less than 40, then consider yourself a risk for cardiovascular disease and metabolic syndrome.  60 and above is heart-protective.  My HDL wasn't low (at 58*), but the goal would be to reach a more optimal level.
6.  High blood pressure
The only factor I had in the normal range was my blood pressure.  If you haven't heard of the new blood pressure guidelines which lowered the range for hypertension, check out the chart below!  These changes were made for early detection and advocating lifestyle changes to prevent cardiovascular disease and stroke.
Be Proactive with your Health
I am absolutely fascinated with the way our bodies are designed.  The body has the capacity to adapt to both internal and external environments.  Notice how you feel when you properly nurture your body with nutritious food, plenty of movement throughout the day, and enough hours of quality sleep.  This is what I had to do to normalize my levels and lose the extra fat around my waist.
The choice is yours, of course.  But there's no better time to start than TODAY.
Are you familiar with the term 'skinny-fat'?   What are you doing today to work towards your best health?
If you're interested in being a part of a community for women who want to build sustainable healthy habits, join our closed Facebook group, EVOKE HEALTHY HABITS
Evoke Healthy Habits is a community for women to receive support and guidance from one another while going on a journey of change towards a lifestyle of healthy habits. We have weekly challenges, recipes, workouts, and tips to help you establish healthy habits for the year!
Note:  *The results (A1C, Triglycerides, HDL) were from a 2015 blood test as part of my regular check-up
References:
(2) Fung, J. (2016).   The obesity code: Unlocking the secrets of weight loss.  Vancouver, BC:  Greystone Books.
(3)  Srikanthan, P. &  Karlamangla, A.S. (2011).   Relative muscle mass is inversely associated with insulin resistance and prediabetes.  The Journal of Clinical Endocrinology & Metabolism, 96 (9), 2898–2903.   https://doi.org/10.1210/jc.2011-0435
Appreciate your support - Please like and follow 🙂