evoke STRONG Live features the incredible health transformation stories of every day women to inspire others that a healthy and thriving well-being is within reach.
The first featured story was about Flossie Hall, a mother of 4, a Navy spouse and the CEO of Healthy Momma, a meal prep service in San Diego. Flossie never cooked but she had a strong drive to learn how to do it to improve her health as well as her family's.  She mastered the art of meal preparation to the point where she started doing it for her friends. And thus Healthy Momma, her thriving business was born.
Pregnancy Weight Gain
As a young kid who grew up poor, the most convenient foods for Flossie and her family came from a box and was highly processed. Flossie didn't have any issues with her weight growing up – in fact, she was actually a skinny kid. However, she did come from a family who was overweight due to lack of exercise and nutritious food. When she became pregnant at 15, she gained around 120 lbs in the span of nine months. Flossie wanted to lose weight but wasn't exactly sure how to approach it so she tried the 'gimmicky-type' diets. These are the diets that offered bars and boxed foods which didn't really work for her.  Years passed and the birth of her second baby. This time she gained an additional 40 lbs.
The Case for Health
Flossie went to school with aspirations to become a medical doctor.  She completed EMT school at the top of her class and was immediately hired.  But before she could start, she had to pass a Physical Readiness Test.  Due to lack of exercise, she failed and the instructor advised her to train for it. It was a crushing moment but at the same time, it made her realized that she needed to take action.  As someone who planned to work in a health-related field, she wanted to be the example and an influencer for healthy living.  However, she had to take care of herself first. And it started with purging her cupboards of unhealthy food items. One of her rules at home was 'Toss two items and replace with healthier options'.  A big adjustment for her family but it eventually paid off!
Learn, Do and Share!
Determined to take back her health, Flossie read countless nutrition books to educate herself and also taught herself how to cook.  She learned how to create healthy dishes without sacrificing the rich flavor she preferred.  At the same time, she also started doing at-home exercise videos. With better nutrition and exercise, Flossie noticed changes in her body, from 210 lbs to around 160 lbs!  By the time she had her third and fourth child, she established better eating and exercise habits. Her lifestyle changes made it easier for her to lose the pregnancy weight. Due to her transformation, her friends wondered how she did it.  So Flossie started a Facebook Page and named it Healthy Momma, where she posted recipes, workouts and challenges, as well as her progress.
A resourceful mom, Flossie sought fitness inspiration on Instagram. This is where she got meal prep ideas.  Sundays was when she dedicated time to prepare meals for the week.  At first, it was a trial and error process.  But she enjoyed what she did so she learned how to perfect her recipes.  Eventually, a friend asked Flossie to prepare meals for her and offered to pay for her service.  When she posted about it, many others were interested in having her prepare their meals.  In one month, it grew from two people to upwards of thirty!  This was the birth of her meal prep business.
No longer about the Weight Loss
Laser focused on weight loss, Flossie reached her lowest number on the scale (127 lbs) after her fourth child was born.  While she was making better choices with food, she started to become more restrictive with it. It wasn't a 'healthy weight' for her since she felt too thin and frail. Again her drive to continually improve her health led her to muscle building types of activities such as strength training and Crossfit.  Her weight increased because of muscle mass and she felt much stronger.  She no longer focused on the scale but rather on overall health and disease prevention by fueling her body with real food and hitting the gym to build on her strength. She also makes sure she gets enough sleep and meditates to relax and rejuvenate.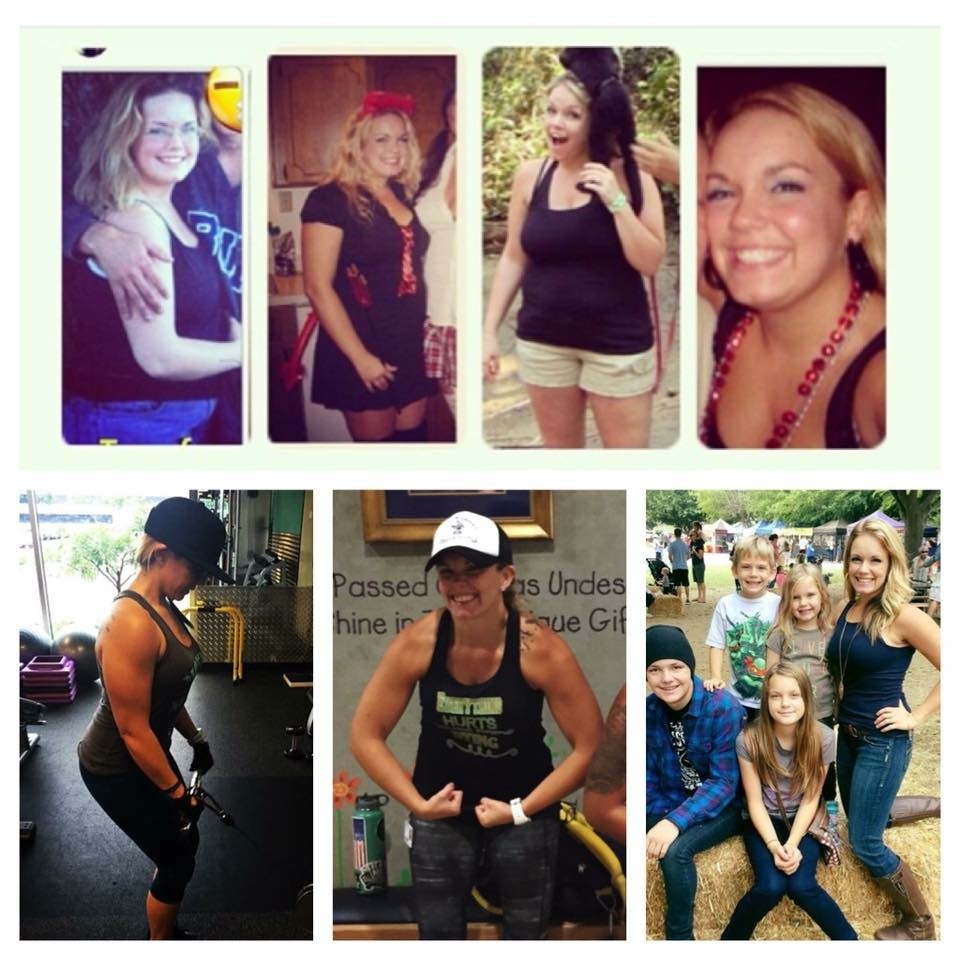 One day at a time to Avoid Overwhelm
Flossie's biggest advice for those who wants to go on a journey of change but feels stuck is to "Bite it off to small pieces…Think about, What am I going to do Today?" whether it's going to the gym a couple of times a week or drinking more water or making better food choices.  Pick one or two things to tackle and once you get the hang of it, add one or two more until it becomes a part of your lifestyle.
To watch the Facebook Live interview with Flossie Hall, click on the link below:
https://www.facebook.com/evokestrong/videos/180965972448626/
Appreciate your support - Please like and follow 🙂